Blog
Visit the Local "Supermarket for Health Foods"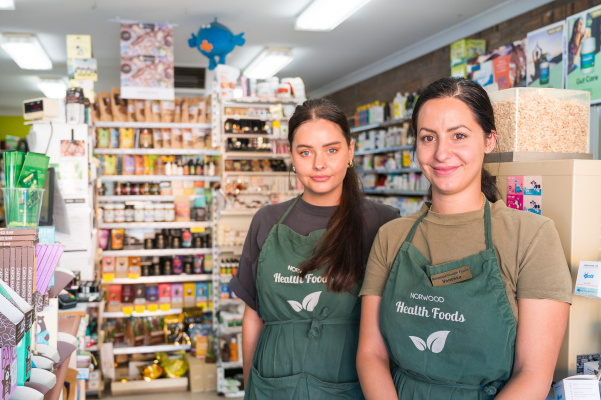 When Vanessa Natsias' father bought Norwood Health Foods in 2012, healthy lifestyles were already well and truly on their way from the fringe to the mainstream and that movement has only grown since then.
She describes the store as a mini supermarket for health foods, with products catering to vegetarian, vegan and gluten-free diets, a range of protein supplements for muscle development and nutritional supplements to boost immune and overall health. When it comes to snacks, customers are spoiled for choice with kale, avocado and broccoli chips, frozen popsicools and a range of colourful raw vegan treats from Raw Delights.
As well as personal health, the Natsias family is also conscious of reducing packaging and wastage where possible, as evidenced by the compact but well-stocked bulk foods section with nuts and seeds, mueslis, cereals, fruits and flours.
Natsias also uses many of the products she stocks in her own home, and not just in the kitchen. "We have a lot of hair care products, I love all that because they're more natural than you would find in other stores," she says, "and if you don't want any chemicals at all we have organic colourings with henna."
Browse the well-stocked shelves and you'll also find cruelty-free beauty and skincare products made with all natural ingredients along with a range of plant-based cleaning products. And whenever her suppliers come up with a new product, Natsias will try to get it in as soon as possible.
Many of those suppliers are local businesses, and she loves working with those that still make their products by hand. "We use a lot of local suppliers, and some of them are pretty small. Customers love the hot vegan pies from Continental Bakery" which come with hearty fillings like curry lentil, lentil mushroom and lentil corn, and she also stocks locally made kimchi, sauerkraut and kombucha. "Our essential oils are made in the Adelaide Hills," she continues, "and the kvass has been really popular, that's a fermented probiotic made by Remedy from The Culturehood."