Blog
Put Your Best Foot Forward at this Parade Institution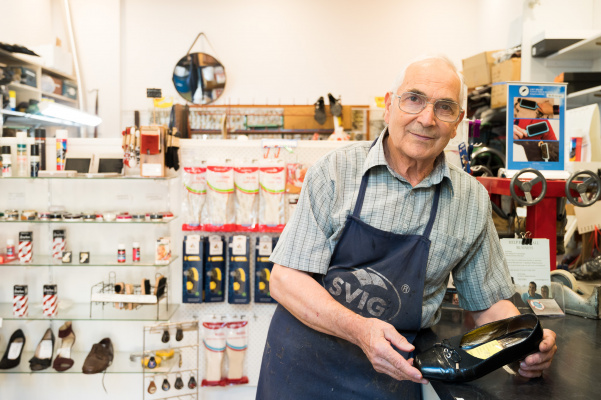 The $110 million redevelopment of Coles Norwood signals an exciting new chapter for The Parade. But it's still business as usual for the longstanding traders of Norwood Mall. Wander down the shaded arcade and you'll find a welcoming community of business owners from all walks of life, so there's never been a better time to get to know the traders of Norwood Mall.
Walk into Norwood Shoe Repairs and the first thing you'll notice is the compact workshop at the back of the store where all the repairs are done. Following close behind that is owner Gerry Francesca's gentle smile as he greets customers the same way he has for decades. "We do things the old way here," he says with a sparkle in his eyes. "I'm the old cobbler."
The secret to his longevity in the business is simple. As a young man he learned to pay attention to detail and do every job well, and he's followed those rules throughout his career. "I've been repairing shoes all my life," he says, "ever since I was a 13 year old in Italy. That's 64 years!" After coming to Australia as a 16 year old, he immediately started working and eventually found himself at Marvel Shoe Repair almost 50 years ago.
That store was located where Foodland now sits, and after buying it from the previous owner he renamed it and relocated to Edward Street before moving into his current space in Norwood Mall around five years ago. "So much has changed since I first came to Norwood," he says with a wry chuckle. "It's hard to recognise it sometimes."
He's seen countless stores come and go with the rise of fast fashion, and the more recent trend of consumers once again learning to appreciate fine craftsmanship and to seek out well-made products that will last a lifetime. It's a philosophy that suits Gerry. "I do all the repairs by hand and I don't believe in doing it cheap so I always use the strongest material," he says. It means he can make a good pair of boots last for decades rather than years and he takes great pride in his work.
As well as shoe repairs, he cuts keys, sharpens knives, replaces watch batteries and repairs other leathergoods, as well as selling a selection of new leather bags, wallets, purses and belts.
He'll even stretch newly purchased shoes for customers if they're a bit tight but he says with a grin that he never has to do that for his own footwear. "I always buy my shoes a little bigger so I don't have any problems like that. I like it because means they'll last for a long time." Which is just the way he likes it.