Blog
Say Buongiorno to CONO Gelateria e Pasticceria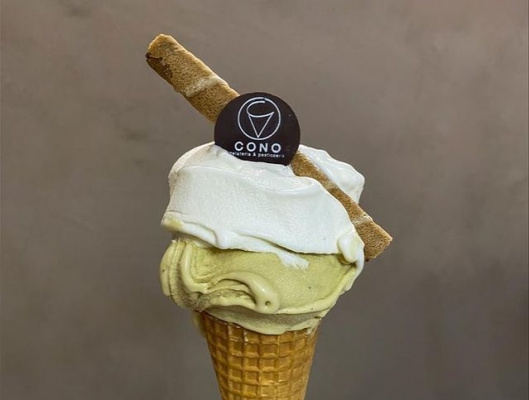 Growing up with parents who ran a gelato and cake shop for 42 years means that Vincenzo Spatola knows a thing or two about sweet treats. And now after twelve years in Australia he's finally opening his own store, CONO Gelateria e Pasticceria. The long gestation period means he is able to control every stage of production and service and he says the resulting gelato (served straight to customers from the machine) is just about perfect.
"You want an ice cream that's creamy but light," the Pescara native says. That means starting with the right recipes (from his parents, naturally) and sourcing the finest ingredients including local cream and traditional Italian additions like gianduja, Piemontese hazelnuts and pistachios grown on the volcanic soils around Mt Etna. Once the gelato is made (at the moment he offers five flavours plus two vegan sorbets), other ingredients like fruits, biscuits and sauces can be folded in to create a variety of marbled "variegato" offerings as well.
And to let those flavours shine, he says, there's one more important rule. "You don't want your lips sticking because of the sugar, which can overpower the other flavours." The result is a treat that's rich in cream and flavour without being overly sweet, so that it lingers on the palate.
The fit-out in CONO is also more subtle than many other gelaterias; instead of dazzling palette of candy colours, the interior is filled with pastel tones and natural light. The idea is to replicate "a classy bar off a piazza where you can still feel relaxed."
To that end Spatola will introduce aperitivos and antipasto platters in the evenings as well as a lunch trade focussed on baked goods like paninis, focaccias and bruschettas alongside snacks including arancini and croquettes.
But the mainstay is gelato, along with his elaborate cakes and the soft, velvety semifreddo that lies halfway in between. It means that every morning Spatola arrives at 4am to begin preparing a range of custards, mousses, tarts and pastries. It's labour intensive work, especially the "mignon" miniature cakes that are common in his homeland. "They're the most popular thing on Sunday in Italy," he explains.
"People go to the shop and get a tray of different varieties or you can have a coffee and a small treat rather than have a big slice of cake." Because he had trouble finding something similar in Adelaide, Spatola decided to make his own. "It's a lot of work," he admits, "but I want to see the display with a lot of different options; I want people to enjoy it. Having these reminds me of being home in my own shop."