Blog
What's New On The Parade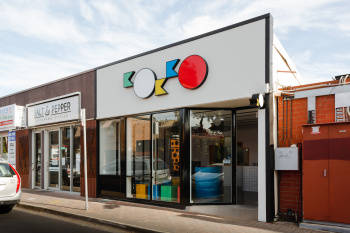 After a year like this one it's important to look for reasons to celebrate. And there's no better time than spring, the season of new beginnings. It's not just in the garden that green shoots are appearing; across The Parade, a host of new businesses are throwing their doors open. Here are four tasty new spots to whet your appetite.
Kokko
It's not the kind of place you're likely to discover by accident, but the secret of Kokko is most definitely out. That's because this colourful venue in a small side street near Argo serves up some of Adelaide's best Korean fried chicken. Each perfectly crispy piece is coated in a secret house blend of twelve ingredients and then served with a range of toppings including citrus mayo, sweet & spicy garlic sauce or cheese flakes. Because everything is prepared by hand each morning there are only 100 servings available per day, so it's best to get in quick before they sell out.
Let Them Eat
Eating on the go doesn't have to mean settling for an unhealthy option. It's why Let Them Eat's motto is "whole food for a fast life". The vegetarian eatery has been serving up healthy, satisfying meals since 2008 and their newest store has just opened on The Parade. Located in the centre of Norwood Place, the new stall continues their mission of using fresh, locally sourced produce to make preservative and chemical free food that's as delicious as it is healthy. Think colourful salads, hearty soups, burgers and tarts with plenty of vegan, gluten free and dairy free options (and don't forget to save room for one of the legendary cupcakes).
Lukoumades
Anyone who's tried the heavenly Greek donuts after which this store is named, knows they're dangerously addictive. The golden balls of fried dough drenched in honey and dusted in cinnamon have been tempting young and old alike for centuries. They're served in the traditional manner at Lukoumades, or you can take things a step further with a range of seriously indulgent extras like nutella, crushed chocolate bars and ice cream. Whatever your preference, you can expect the new Norwood store to be very busy when it opens in mid-November.
Kazumi Ramen
Travel around Japan and you'll find thousands of ramen restaurants, each with its own specialty. But one thing they all have in common is the knowledge that great ramen starts with great broth. That's something they take seriously at Kazumi Ramen, where the beef broth is simmered for up to 60 hours to get the very best flavour. The next step is adding handmade noodles and then choosing from a variety of toppings. And like the broth, the specialty is beef. Specifically, slow roasted 100% wagyu beef, which will also feature in the miso and gyoza when the venue opens in December.