Blog
It's time to Spring Back to The Parade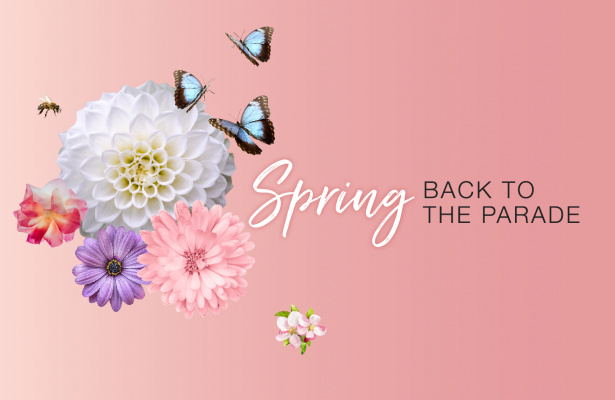 Taste
Spring means fresh shoots and greenery in the parks. It also means a host of colourful new options in the kitchen. Celebrate the season with one of the new spring dishes at The Colonist like toasted flatbread with lemon myrtle hummus and sun-kissed tomato and fetta dip or smoked salmon carpaccio with a colourful medley of radish, kohlrabi, rainbow beets and red onion. Or go straight to the source and prepare a feast at home with a haul of crisp local produce from Metropolitan Fresh Fruiterers and fresh 2020 white wines from The Parade Cellars next door.
Shop
The warmer weather means it's time to shed your winter coat and switch to breathable natural fabrics like linen. Check out the range of star-spangled blue, white and pink tops at Fashada Boutique then get a fresh cut to match from the award-winning team at ORBE salon.
And if you're doing a bit of spring cleaning, turn your pre-loved clothing into cash by renting a rack at Yours + Mine (or just browse for everyone else's bargains).
Experience
If you're looking for a workout but want something a little more graceful than your local gym, improve your strength and co-ordination with an adult dance class. The drop in contemporary and ballet classes run by Australian Dance Theatre at The Odeon are led by highly experienced teachers and cater to every level from beginner to world class.
Then immerse yourself in the sights and sounds of The Parade with a VIP Shopping Day & Sidewalk Sale featuring live entertainment and hundreds of bargains from retailers all along Adelaide's favourite shopping strip.
Play
If you're looking for a way to get your kids off their phones, book a fun day out bowling or playing laser tag at Kingpin, or let them perfect their pool techniques at Cue Bar with a school holiday package that includes soft drink and pizza.
Then bring the fun home by picking up a school holiday activity pack from the Norwood Library. With a calico bag the kids can decorate themselves, an activity book, scratch art and a scavenger hunt, there's enough to keep them occupied for days. Or you can join online activities like a Bollywood dance workshop or a virtual date with the cute native animals of Warrawong Wildlife Sanctuary without even leaving home.