Blog
Raising The Bar Adelaide returns to inspire and educate you (at the pub)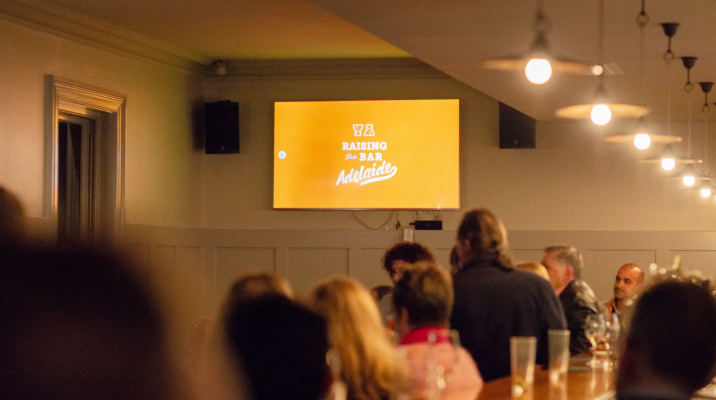 For the third year in a row, the City of Norwood, Payneham & St Peters has invited a range of experts, academics and thought leaders to turn ten bars across the neighbourhood into classrooms for a night. It's part of Raising The Bar, an event that has been held in San Francisco, Hong Kong, New York and London to great acclaim.
The idea behind hosting the talks and discussions in bars is to create an informal space where learning is accessible and fun – attendees are welcome to grab a drink and encouraged to ask questions. As part of the event, some of Adelaide's most interesting minds will bring their insight to The Parade and transform the shopping and entertainment precinct into a playground for the curious on Tuesday 20 October.
Movement is Medicine – Why Wait Till We're Broken?
The Bath Hotel
As a dual Commonwealth medallist and Olympian, Jessica Stenson knows the importance of looking after her body. And whether you want to race to the top of Mount Lofty or the corner store, performing at your peak is a process that begins long before you take off.
She'll be delivering this talk with Matt Heavyside, who was one of the first Australian physiotherapists to study functional movement assessment in the United States. It's a method used at the highest level of professional sport globally and takes a holistic approach to health rather than only treating existing injuries. As a result, Stenson and Heavyside specialise in pre-emptively identifying and correcting issues that might affect mobility. They'll explain why this is so vital and include some take home knowledge and tests to ensure that you're able to function at your optimum level, now and well into the future.
The Colonist
For almost thirty years, people have been talking about the death of vinyl. But with the recent news that records are once again outselling CDs, Jason Lee says that's some way off. An avid digger and DJ, Lee has around 7000 records but his favourite is always the one he's about to buy. More than shelves full of wax and cardboard, his records store memories and emotions and he'll discuss what drives collectors, as well as how to use those records to create a packed dance floor.
From house to disco, jazz, funk and soul, Lee will take the audience on a musical journey as he explains the history of DJing and the different types of DJs before imparting a few practical tips using his portable record player.
Why A Focus On Mental Wellbeing Makes All The Difference
Cue Bar
Since its inception six years ago, the SAHMRI Centre has delivered wellbeing programs to a huge range of participants around the state. And never has that been more important than in 2020, when many people were struggling with their mental health. The good news is that there's been a big improvement in the results over the past six months. The better news is that the Centre has also been busy conducting a detailed study to understand the most effective strategies to improve mental wellbeing.
Just like getting good sleep and eating well help your body to stay healthy, there are many simple exercises that can have a positive effect on your mental wellbeing. Matthew Iasiello will explain some of these concepts, and how they can have an impact not just on our mood, but on job performance, relationships and a range of other areas.