Play
Events & Festivals
Norwood Christmas Pageant
Norwood Christmas Pageant
Saturday, 21st Nov 2020
10:00am — 11:00am
The Parade, Norwood, South Australia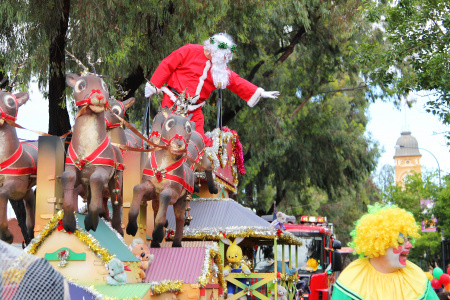 Come and celebrate the Norwood Christmas Pageant!
The 2020 Norwood Christmas Pageant is set to light up The Parade, Norwood on Saturday 23 November with colourful floats, music and entertainment including live bands, clowns, dancers, fairies and more.
Crowds are expected to line the streets from first thing in the morning and kids are encouraged to bring their chalk and decorate the street with Christmas drawings.
Pageant route
The Pageant will start at Woods Street, Norwood and travel east along The Parade to Queen Street.
To reduce the number of road closures associated with this event and to minimise the disruption to traffic on major roads and the surrounding side streets, floats will line-up on The Parade, between Fullarton Road and Woods Street.
Download: Pageant Route Map
Borrow a costume
We have a wonderful selection of colourful costumes, available in a range of sizes and styles - there's something for everyone!
If you would like to be part of the Pageant, simply borrow a costume from us and we will allocate you to a Council float. There's no need to apply online, simply attend our costume lending day - details below.

Costume lending details

COSTUME SELECTION
COSTUME RETURNS
Saturday 14 November, 9am - 3.00pm

Saturday 21 November, 12 noon - 2.00pm

Saturday 28 November, 9.00am - 12 noon
All costumes are to be collected from and returned to the Norwood RSL Hall, 4 Woods Street, Norwood.
Please note, costumes cannot be reserved and are handed out on a first-in-best-dressed basis.
Temporary road closures

Temporary road closures will be in place on the day of the Norwood Christmas Pageant.
The Council would like to thank local businesses, residents and visitors to the Parade in advance for their cooperation on the day of the event.

Road closures and times
The following road closures will be in place on Saturday 21 November from 7.30am to 12.30pm:
The Parade - Fullarton Road to Portrush Road
Beulah Road - Portrush Road to George Street
Queen Street - Magill Road to The Parade
George Street - Webbe Street to The Parade
Edward Street - Webbe Street to The Parade.
Parking
Due to road closures along the Pageant route on Pageant day, parking restrictions will be in place.
Please take note of the road closures listed above and make alternative parking arrangements.
If you would like to explore public transport options, visit Adelaide Metro for bus services and times.
Information for local businesses
Please ensure your suppliers, customers and employees are aware of the temporary road closures and times they will be in place, and alternative parking arrangements are made.
Information for residents
Please be aware of the temporary road closures listed above and the times they will be in place.
Bus services and heavy vehicles
Eastbound services and heavy vehicles will be diverted via Fullarton Road, Magill Road, Portrush Road and then onto The Parade as per normal.
Westbound services will be diverted in the reversal of eastbound services.
Tips for the day

stay behind the blue line marked on The Parade
on the morning before you leave home, write your mobile number on your child's wrist or arm in case they get lost and take a photo of them to remember what they are wearing
don't forget to Slip, Slop, Slap, Seek and Slide for you and the kids
if it looks like there might be rain, bring your umbrellas, hooded jackets and gumboots for enjoying the puddles
stay for lunch to avoid the rush out. There are many delicious eateries on The Parade for you to enjoy after the Pageant finishes. Bookings might be the go if you want a specific place
utilise public transport to get to The Parade as parking can be restrictive.
More information
Council's Events Unit
T: 08 8366 4555
E: events@npsp.sa.gov.au