Play
Events & Festivals
Round 1 AFLW Adelaide Crows v Western Bulldogs
Round 1 AFLW Adelaide Crows v Western Bulldogs
Saturday, 2nd Feb 2019
8:10pm — 9:45pm
Norwood Oval, 4 Woods Street, Norwood SA 5067
Phone: 08 8440 6634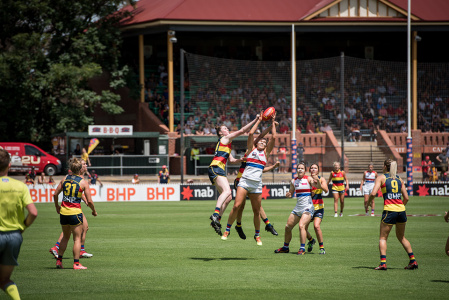 AFLW Women.
Round 1. Adelaide Crows v Western Bulldogs.
Join the Adelaide Crows Women's team at Norwood Oval as we fly as one into the 2019 AFLW Competition.
Inaugural competition premiers, the Crows, take on the reigning champs, Western Bulldogs, in the Opening Round to kick off what will be an exciting Summer of football.
Get there early to soak at the atmosphere, visit the Crows Kids Zone for family fun and enjoy in all the pre-game entertainment and activities.
And what's more, it's FREE. Come down and show your support for AFLW this Summer and cheer on the Crows live!
Sign up as a FREE Crows We Fly As One member to receive the latest info about this event.
Join as a Crows Women's team member
Discover the Adelaide Crows Women's Team
Follow us on Facebook, Instagram & Twitter: @CrowsAFLW // #weflyasone